It's really hard to stand out and get the attention of the public when so many marketers are using the same software and sending the same emails.
However, GetResponse is one of the names that comes up when discussing marketing automation software.
We'll try to break it down into its features and discuss its main strengths and weaknesses in this GetResponse review.
Hopefully, by going through the full detailed guide you'll be able to determine whether GetResponse is powerful enough for your needs.
What is GetResponse?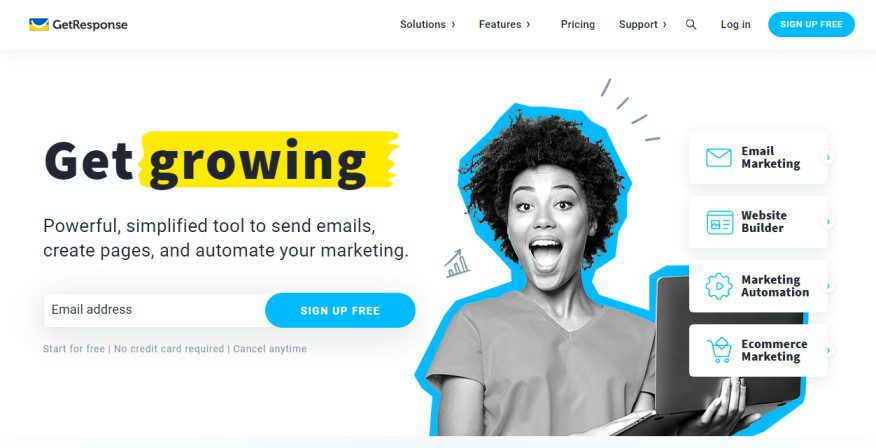 GetResponse has been around for a long time. It all began in 1997 when SEO Simon Grabowski introduced the first autoresponder.
This set off a chain reaction, beginning with the registration of www.getresponse.com a year later.
GetResponse has been expanding its features and expanding its team globally since then.
The tool has also received recognition from publications such as Website Magazine, which named GetResponse the second-best email marketing provider in 2011.
But how has GetResponse managed to stay on top of its game in the face of much stiffer competition chock full of bells and whistles to the delight of users?
One of GetResponse's best qualities is its constant growth and ability to adapt to changing times. It hasn't rested on its laurels, and it continues to offer users the best email marketing features to help them grow their businesses.
GetResponse is an email marketing service that lets you send emails, create landing pages, and track your marketing campaigns.
With GetResponse, you can create email campaigns and newsletters without any coding skills. It has built-in templates for creating professional-looking emails. You can also use their drag-and-drop editor to design your own templates from scratch.
It offers a variety of tools to help you design your marketing campaign: autoresponder, landing pages, webinars, surveys, and more. You can also use their analytics dashboard to measure the success of your campaign.
GetResponse: Features
Instead of gushing about how good GetResponse is, it's best to get deep into the weeds and check out the tool in action.
Below are its main features and how each of them works in unison to help make an impact on your business.
GetResponse is a leading email marketing provider. It offers easy-to-use email marketing software that can be used to create, send, and track emails. Some of the features of GetResponse are:
E-commerce Marketing Automation:
You can simply promote your business online by sending customized messages to clients who have shown interest in your products using Getresponse's e-commerce marketing software.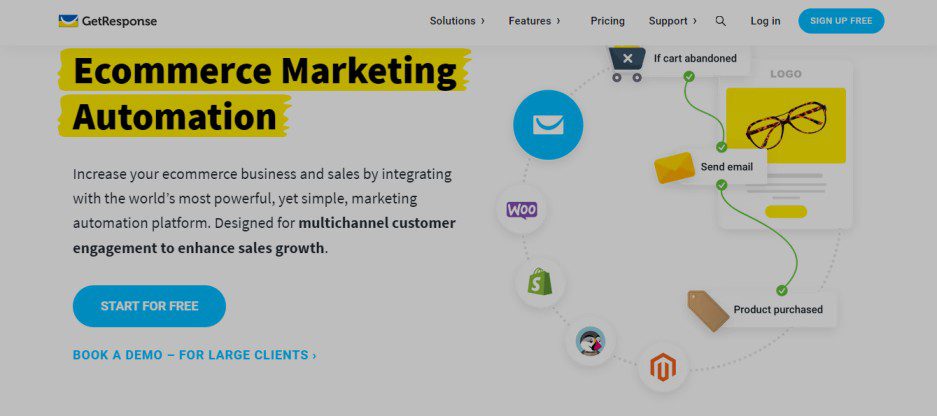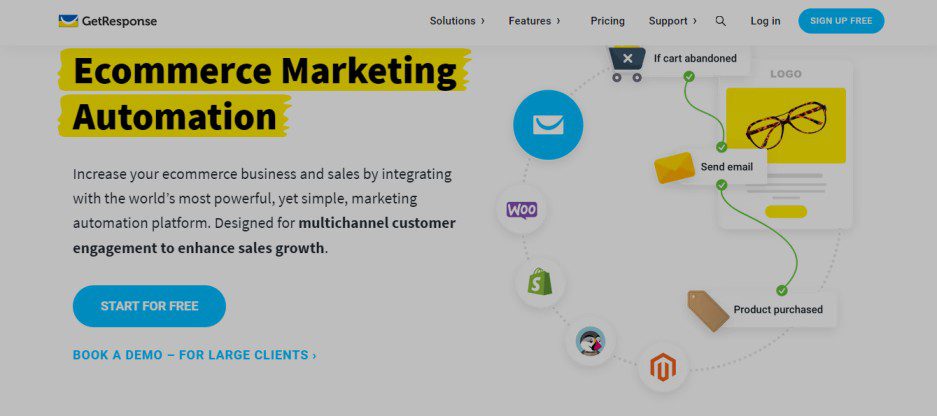 GetResponse for E-commerce
E-commerce Marketing Automation includes solutions for integrating Shopify, PrestaShop, Magento, and WooCommerce, among other e-commerce platforms. Integration with the world's most sophisticated, yet simple, marketing automation software can help users grow their e-commerce business and revenues. Designed to boost revenue growth through multichannel customer engagement.
Features:
Integrations with popular e-commerce systems at a single click: Fill GetResponse with product inventory and customer information (no coding experience required). Then, with the help of strong marketing tools, advertise your products, increase sales with content, and personalize offers to your consumers' demands.
Integration Partners:
• Shopify: www.getresponse.com/solutions/ecommerce-marketing/shopify
• PrestaShop: www.getresponse.com/integrations/prestashop.html
• Magento: www.getresponse.com/integrations/magento.html
• WooCommerce: www.getresponse.com/integrations/woocommerce.html
Advanced Segmentation:
On your websites, track client purchases, orders, and behavior. Users can establish segments for specific client groups and create conversion-focused marketing campaigns. Create data-driven and tailored marketing strategies.
Quick Transactional E-mails:
The GetResponse Email Creator allows you to send automatic purchase confirmations and send automated abandoned cart emails to clients who haven't completed their transactions. Effective cart abandonment communications can result in up to a 25% increase in sales for users who set it up in just a few minutes.
Promo Codes:
GetResponse can automatically sync discount codes from e-commerce platforms and drag & drop them into newsletters, autoresponders, and automated messages. For cart abandonment, returning customers, and seasonal sales, use promo coupons. It's a simple approach to increasing sales!
Product Recommendations:
Based on previous purchases and activity, the Product Recommendations Engine is a strong, data-driven tool that learns client preferences and possible needs. The product recommendation box can be dragged and dropped into your emails. The automated fills in the relevant products for each recipient on the list in a portion of an email.
Popups:
This feature attracts users' attention and boosts site conversion rates and sales income dramatically. Users may construct popups and specify particular conditions for how they work with GetResponse's code-free, drag-and-drop creator. Website loading or delay, intent to depart, and web events are all triggers. Which can boost conversion rates by up to 60%.
Prebuilt Automation Templates:
Prebuilt templates and playbooks make it simple to welcome new contacts, offer items, recoup lost revenue, and leverage behavioral targeting.
Omnichannel:
For entire multichannel consumer interaction efforts that boost revenue, use email, web push notifications, SMS, and popups.
Pricing Plans:
Pricing plans have been updated to reflect plans that align with our customer's needs. Choose from a Free-forever plan, Email Marketing plan, Marketing Automation plan, and our new eCommerce Marketing Plan.
• Free:
Great for new users to try all features of GetResponse for 30 days. Free accounts then have access to Website builder, unlimited newsletters, and sign-up forms with up to 500 contacts.
• Email Marketing:
Great for small companies starting their email marketing campaigns. Users have unlimited landing pages,
website builders, basic segmentation, email scheduling, and integrations.
• Marketing Automation:
Great for an active email marketing channel. This email marketing plus plan adds marketing automation, event-based automation, webinars, advanced segmentation, contact scoring, and sales funnels.
• New! Ecommerce Marketing:
Great for advanced eCommerce marketing users. This marketing automation plus plan adds new
eCommerce features, including quick transactional emails, eCommerce segmentation, abandoned cart recovers, promo codes, product recommendations, and web push notifications.
Email Marketing:
GetResponse offers an easy-to-use email marketing software that can be used to create, send and track emails.
Social Marketing:
Getresponse also provides social media marketing software which includes Facebook ads and Twitter ads.
Email creator:
It all begins with selecting one of its predesigned templates.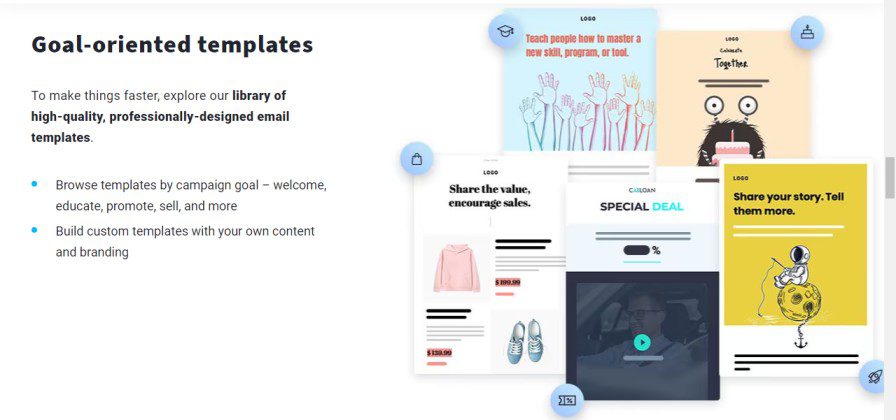 Instead of starting from scratch, simply choose a template for your email campaign.
You can first preview the template to see if it matches the look and feel you want for your email.
To help you find the right template much faster, we only show templates from the category that best fits your needs. From here, select the blocks and sections to modify.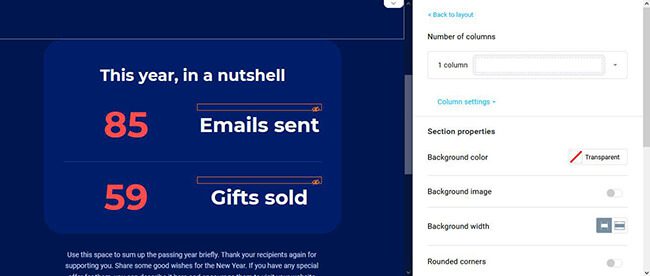 You can also change the look of each block or section by adjusting its settings.
Even if you lack design skills, changing the color or resizing the font size is simple with a few clicks.
You can even drag and drop blocks and sections to the template to further customize it.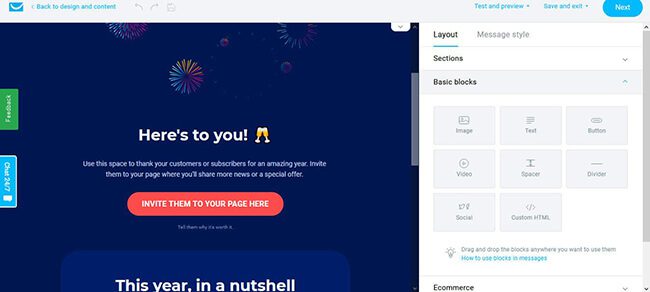 There's also an E-commerce section in the email editor where you can add the product box and recommended product blocks.
However, you can only use these if you set up your store on GetResponse.
You can save the current email design as a template if you want to use it in other campaigns.
You can then save your custom design in the Design and Content section (by clicking on the My templates tab).
Once you've completed the design and determined who will receive the email, you must schedule when it will be sent to them.
You can send it right away or schedule a time for your recipients to see it.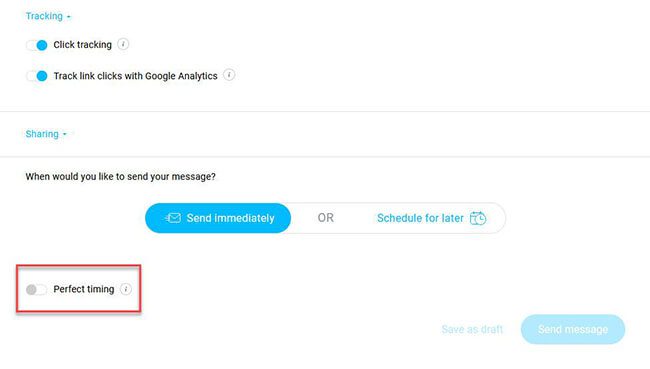 So far, enable excellent timing to ensure that customers receive the email at the optimal time based on when they opened previous emails from you.
Autoresponders:
Assume you want to send an email or a series of emails to a group of subscribers automatically.
Because it is impossible to send emails one by one, GetResponse makes this easier for you with its autoresponder feature.
Create the first autoresponder by specifying when the email will be sent to your subscriber.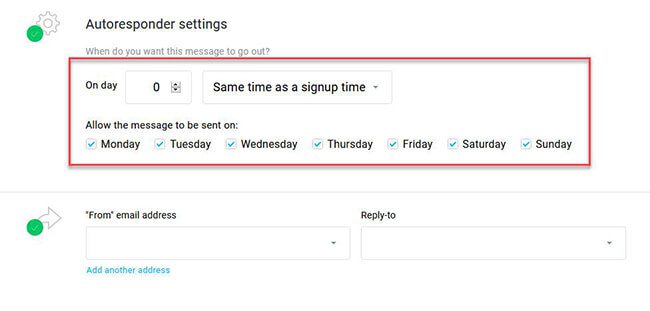 For eg, you can use autoresponders to welcome new subscribers by sending them a welcome email as well as links to pages on your website that they should visit to become acquainted with your company.
After you've determined the autoresponder's schedule, you can design and publish the email in the same manner as shown above.
While sending autoresponders is an excellent way to onboard new subscribers, it becomes even more effective when combined with the marketing automation feature, which we will discuss shortly.
But, as an example, you can automate your sales and engagement by configuring multiple autoresponders to create a drip-feed campaign!
Email Analytics:
To achieve the objectives of your email campaign, you must understand how it was received by your subscribers.
Even if you believe you have created the best email campaign available, there is a chance that not all of your subscribers agree.
Even so, you need to grasp how your campaign performed with your subscribers so that you can understand what you did right and/or wrong and optimize your next campaign.
To do so, examine the campaign's analytics to identify the various metrics that influence its overall performance.
You can see an overview of how your list responded to one of your email campaigns from the dashboard.
It displays the number of emails delivered to your subscribers, as well as the campaign's open and click-through rates.
More information about the campaign, such as the bounce and unsubscribe rates, as well as the number of complaints, can be found by digging deeper.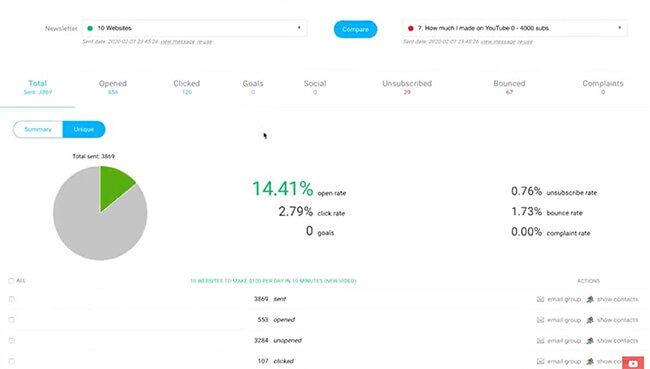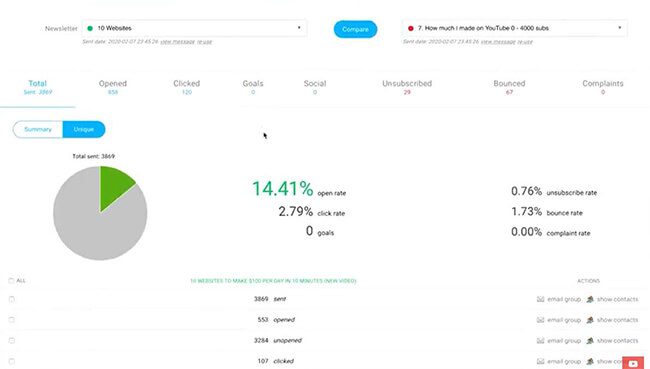 When you take all of this into account, you'll have a better idea of what made your campaign a success or failure and what you can do to improve results.
If you want to analyze your list's growth, the reports section will display it in graph format alongside other variables (demographic, subscription methods, devices).
List Management:
When creating a list, you want people who are interested in and involved with your brand to join. However, you will only be able to do so if you can send them emails encouraging them to participate and stay active.
GetResponse's List Management feature assists you in accomplishing this by first segmenting and conditioning your subscribers.
For example, you can segment groups of people who signed up on your site using a different form with a specific message (more on this later).

You can create a personalized campaign for this segment once you've created one for them.
By doing so, you can make your interactions with each of your segments more dynamic and personal, which will help increase engagement, if not conversions.
Adding conditions to each of your subscriber lists can also help you manage them.

You can get more specific with your subscribers by segmenting them based on criteria such as geolocations, contact actions, and so on.
You can then group subscribers who meet certain criteria and create personalized email campaigns for each.
You can also profile each of your subscribers from List Management. To learn more about them, click on their names.
You can see their most recent activity based on the emails you sent to each of them, add notes about each, and other information that may help you convert them into customers.
GetResponse functions similarly to a CRM. Using the information provided here should assist you in profiling subscribers and providing context for each of them.
Transactional Emails:
People who run an e-commerce site require more from their email marketing software than just collecting subscribers and sending emails.
You'll need a tool that will send emails to people who haven't checked out their carts and receipts to customers after each transaction.
The Transactional Email feature of GetResponse allows you to connect its API or SMTP and send transactional emails to customers.
By automating this system, you can concentrate on the big picture – the tool's 99 percent email deliverability rate and dependable infrastructure ensure that you're not getting off easy.
You can analyze and review the performance of these emails to increase your sales opportunities even further.
Sign-up forms:
Of course, you can't start an email campaign unless you have subscribers to send it to.
Fortunately, GetResponse has you covered. For starters, its sign-up form allows you to collect contact information for your list.
Creating a form is easy. Choose from four methods for creating forms and from a variety of templates organized into categories so you don't have to start from scratch.
You can edit the existing fields and layout, as well as add new ones, just as you would when creating an email.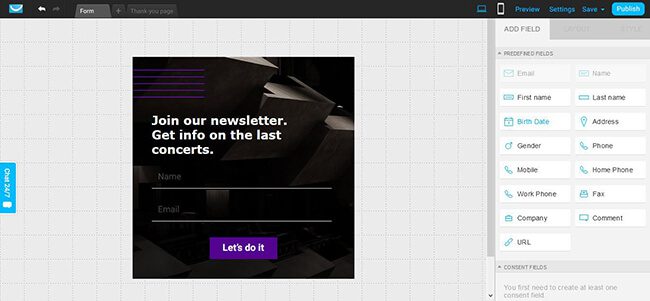 When you're finished with the form, you can embed it on your website by pasting the code into any page. You can also ask your web designer to do it for you, or GetResponse can host it on its servers. In the latter case, you'll simply need to share the URL with your audience.

If you want to change the appearance of your form, you should be able to find it in the tool's List Builder Apps.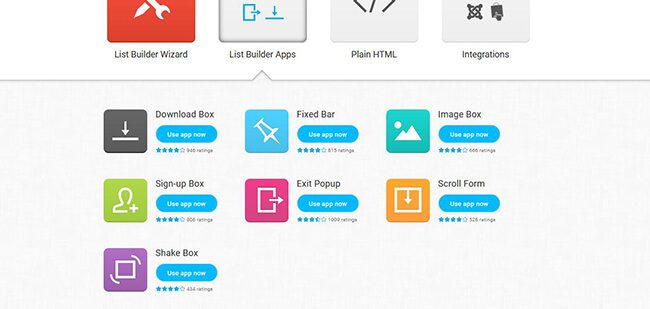 Before publishing, click on the app of the form you want to build and edit it from there.
There are also options for creating the form from plain HTML (if you are comfortable with coding) or by utilizing integrations or plugins from popular platforms (WordPress, Drupal, Prestashop, etc.).
Landing Pages:
Instead of forms, you can use landing pages to convert visitors into subscribers or even customers.
You can make one by selecting one of the available templates, which are organized by type (promotion, download, sale, etc.).
Again, thanks to its simple drag-and-drop builder, creating a landing page is a breeze.
To conduct A/B testing on landing pages, click the + sign in the top bar to create as many variants as you need.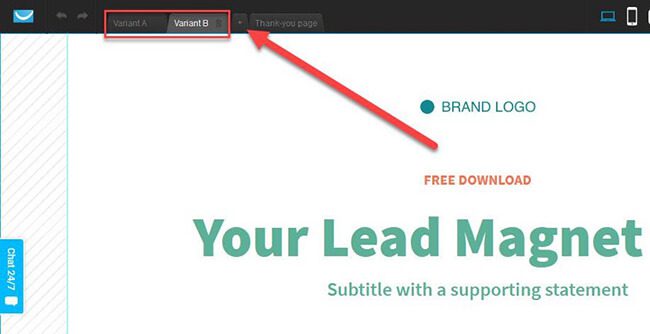 This is important in determining which variant generates the most conversions.
Once you're finished with your landing page, you need to determine which domain you want to publish the page on. You can choose from three preset domains owned by GetResponse.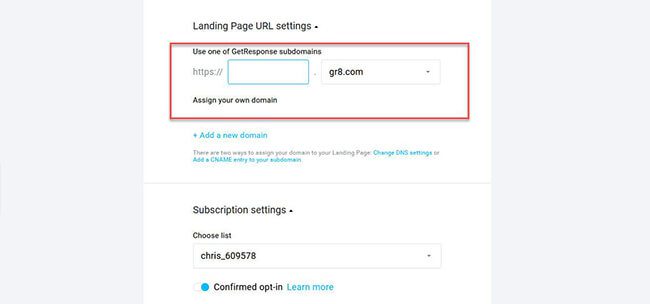 If you have a website, however, it is best to publish the landing page under your domain name for branding purposes.
Webinars:
If your resource guides aren't increasing your company's sales, it's time to step up your game with webinars.
Hosting online presentations where your audience can join to learn more about a topic is another excellent way to introduce them to your products and services.
They joined your webinar because they are interested in what you have to say and offer. As a result, with just one webinar session, you can expect to close more customers and clients.
GetResponse is by far the only email marketing platform that includes webinar functionality. What's more, it integrates well with its other features, making it much easier to set up webinars than using a third-party tool.
To create a webinar, you must first configure its details, such as the URL of the webinar page, the date, the duration, and so on.
You can also set up the webinar to collect registrants ahead of time and assign them to which email list they will be added.
After you've saved the settings and proceeded to the next step, you can create forms and landing pages for your audience to pre-register for the webinar.
You can then set up autoresponders to remind them about the webinar and keep them up to date on any changes.
You can promote your webinar in a newsletter to your existing list so that they can sign up and be informed about it as well.
This is where the fun begins once the webinar has begun.
GetResponse provides more than enough tools to run a capable webinar where you can take questions and interact with attendees in real-time.
You can record the entire webinar and share the link with those who missed it so they can watch it whenever they are available.
Marketing automation:
If you want to generate more sales and revenue on autopilot, you should use GetResponse's marketing automation features.
As previously stated, you can set up multiple autoresponders to create a drip-feed campaign. This allows you to put the software to use by automatically sending emails to a segment of your list.
To accomplish this, you must develop a workflow that is geared toward your goal.
While you can create the workflow from scratch, you can also choose from pre-made workflow templates with built-in elements.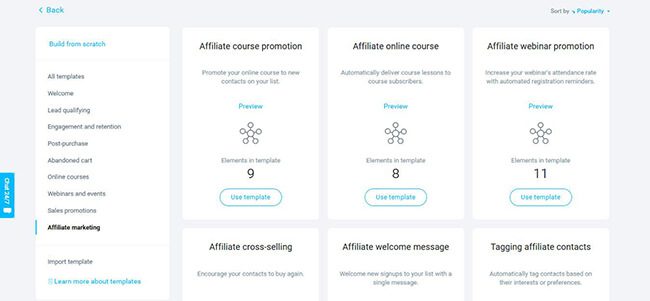 The workflow builder visually displays the emails that will be sent to your subscribers.
You can customize and personalize the workflow by adding elements from the right side of the screen to the template.
Every email campaign's goal is to get people to the end of the campaign by allowing the workflow to do the work for you.
As a result of incorporating conditional logic into the equation, you can generate personalized automated emails based on their actions.
For example, recipients who received the email but did not open it will receive a different email than those who did.
Once the workflow is complete, click on each element to add the message you want subscribers to receive.
To open the drag and drop builder and compose your message, click the Create new message button.
Conversion funnel:
The features listed above are only a sampling of what GetResponse can do for your company.
However, if you want to put everything together, its Conversion Funnel allows you to connect the dots and create a high-converting funnel that is guaranteed to convert visitors into customers.
First, you must determine what your funnel's goal is.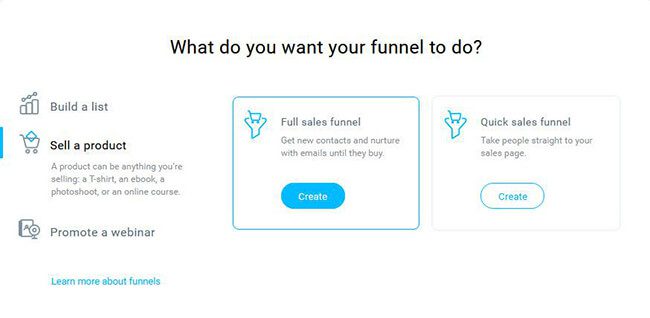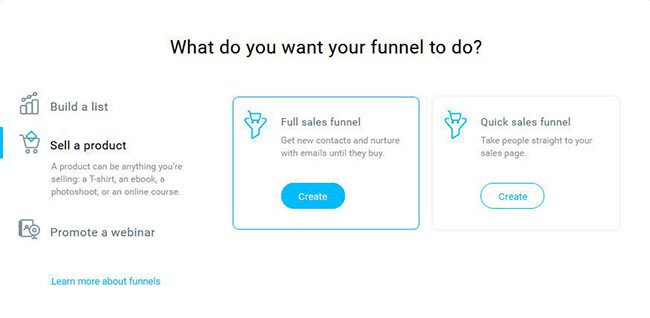 If you want to build a list, GetResponse offers a variety of lead magnets for your funnel. But if you have your own magnet, that's even better.
The next page explains what else you need to do to finish the funnel.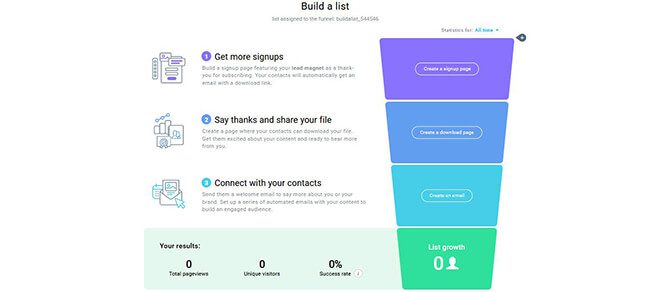 Conversion Funnel eliminates the guesswork involved in creating high-converting campaigns comprised of signup forms, landing pages, and emails.
All you have to do is fill in the blanks and wait for the conversions to come in!
Website builder:
That's right, GetResponse can now assist you in the creation of entire websites.
You won't get the same level of flexibility as with dedicated website builders, but for an added bonus? Amazing.
If you need to create a simple website quickly, this is a great option. The AI builder automates the web design process by allowing you to select from a variety of templates based on your industry.
When your basic website is complete, you can further customize it using a drag-and-drop builder.
Ecommerce store:
Do you want to sell digital or physical goods? You can.
GetResponse also provides this functionality, which works in tandem with their Conversion Funnel tool.
This means you can create fully functional sales funnels without having to juggle a slew of marketing tools.
This means you can create fully functional sales funnels without having to juggle a slew of marketing tools.
How Much Does GetResponse Cost?
GetResponse provides a free lifetime account with up to 500 contacts and access to email marketing, a website builder (10 pages maximum), and a landing page builder.
Granted, some of these features have feature limitations, but paying will remove these restrictions. However, if you're just getting started, that may be sufficient.
What about paid subscriptions? You have a number of options to choose from. All of them come with a 30-day free trial.
The higher the plan you choose, the more features you'll have access to. In addition, if your subscriber count exceeds 1,000 contacts, the price for all plans rises.
To save on your subscription, you can sign up for a 12- or 18-month plan to get 18% and 30%, respectively, off the total price.
GetResponse's pricing starts at $19/month for up to 1,000 subscribers (Email Marketing Plan). If you have more contacts, you can get 2,500 for $29/month or 10,000 for $79/month. All plans include unlimited emails and autoresponders. There is no setup fee. GetResponse recently added a free plan, which offers the same features as the Email Marketing plan. The difference is that you'll only be able to collect up to 500 subscribers and set up 1 landing page/website.
GetResponse: Pricing & Plans in Detail:
The Multiple Plans Are Listed Below:
FREE
EMAIL MARKETING
MARKETING AUTOMATION
ECOMMERCE MARKETING
MAX*2
Features
Autoresponders
No
Yes
Yes
Yes
Yes
Landing pages & website builder
1 landing page/website with 5 GB bandwidth
Unlimited landing pages & visitors
Unlimited landing pages & visitors
Unlimited landing pages & visitors
Unlimited landing pages & visitors
Custom automation workflows
No
No
5
Unlimited
Unlimited
Tags
No
No
Yes
Yes
Yes
Scoring
No
No
Yes
Yes
Yes
Abandoned cart
No
No
Yes
Yes
Yes
Web event tracking
No
No
Yes
Yes
Yes
Automation segmentation
No
No
Yes
Yes
Yes
The number of users. You can add 5 more for $20.
1
1
3
5
10
Advanced Features
Webinars
No
No
100 attendees
300 attendees
500 attendees
Sales funnels
No
1
5
Unlimited
Unlimited
Custom DKIM
Yes
Yes
Yes
Yes
Yes
Live chat
Yes
Yes
Yes
Yes
Yes
Campaign consulting
No
No
No
No
Yes
Salesforce integration
No
Yes
Yes
Yes
Yes
Account migration support
No
No
No
No
Yes
Price based on list size (unlimited emails included)
500 subscribers
$0 / month
–
–
–
–
1,000 subscribers
–
$19 / month
$59 / month
$119 / month
–
2,500 subscribers
–
$29 / month
$69 / month
$139 / month
–
5,000 subscribers
–
$54 / month
$95 / month
$169 / month
–
10,000 subscribers
–
$79 / month
$114 / month
$199 / month
–
25,000 subscribers
–
$174 / month
$215 / month
$299 / month
–
50,000 subscribers
–
$299 / month
$359 / month
$444 / month
–
100,000 subscribers
–
$539 / month
$599 / month
$699 / month
–
Conclusion
Let's wrap up this GetResponse evaluation. Given the features listed above, it's easy to see why GetResponse is still a top dog in the email marketing industry.
It's difficult to compete with the automation and email marketing services it provides to users.
The abundance of templates for forms, emails, landing pages, workflows, and funnels adds to GetResponse's ease of use.
Even if you have no idea how email marketing software works in general, the templates will help you fill in the blanks so you can communicate your message more effectively.
You can also sell both digital and physical products. It can even be used to create simple websites.
GetResponse is a full-stack marketing tool unlike any we've tested. Without having to juggle eight or more different tools, you have everything you'll need in one tool to build a profitable business.
However, GetResponse is not for everyone. If you're just looking for a basic email marketing tool, its extensive feature set may seem excessive.
GetResponse is still one of the best options for engaging your audience and converting them into customers. Sign up for free At the very least, to get a feel for it.